Flat Submersible Cable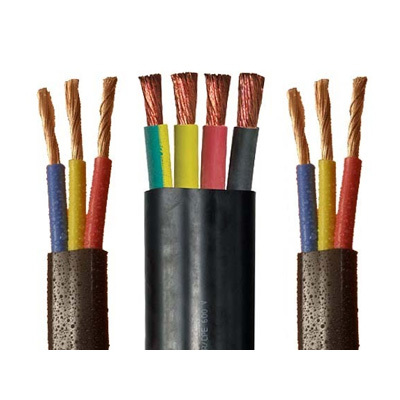 Flat Submersible Cable
Product Description
BINTEX" 3 core flat submersible cables are manufactured with bright annealed proper bunched electrolytic grade copper which ensures flexibility and resistance. We have in-house facility for manufacturing copper wire as per requirement. Each copper conductor is insulated with red, yellow and blue colour. The black color outer sheath is made from special grade pvc with sequential meter marking, brand name, size and voltage. Bintex cables are performing better in difficult condition than other cables on the market.
Special Features :
Excellent resistant to moisture, abrasion, grease and oil.
Excellent resistance to oil, moisture, chemicals and ozone.
BINTEX PLUS FLAT SUBMERSIBLE:
BINTEX" flat Plus submersible cable are manufactured with pure 99.98% electronic bare copper wire. Bunched Copper conductor insulation with red,yellow and blue colour with thermostat type CROSS POLYLINK POLYTHENE (XLPE) + PVC upper jacket with uniform thickness in core insulation in advanced machinery. The Gray colour sheath with uniform thickness of heat and moisture resistant type PVC (Grade ST-2) compound. The cables are available with brand name, Size, voltage and sequential meter marking on the sheath.
Benefit of XLPE Insulation:-
Continuous conductor temperature of insulated cables is 90c as against 70c in PVC Insulated cables hence it is possible to use one size lower than PVC for the same current.
In XLPE insulated cables overload capacity is 130c as against 120c in PVC insulated cables.
In XLPE insulated cables short circuit ratting 250c as against 130c in PVC cables.
XLPE density is lower than PVC which makes them lighter in weight hence the bending radius is smaller than PVC.
Lower Di-electric constant and power factor is saving in power losses which means saving in costs.
There is no need of any special technique in jointing of cables.
This cable has long and trouble free life and are ideally suitable for submersible pump.
Contact Us
Bintex House, Near Rajmoti Industries Rajkot Gujarat India 08045477958
Phone :08045477958